Walpole Bay Bowls Club, which was formed in 1994, enjoys views across the Thames estuary from its St George's Lawns, Cliftonville, Kent headquarters.
The Club plays on its own green, maintained by its own green-keeper. It is a friendly, convivial mixed club that welcomes new players of all levels whether new to the game or a seasoned player.
The Club plays in three leagues and has sufficient friendly matches to cater for all players.
Regular roll-ups are held on a Tuesday and Thursday afternoons from April until September.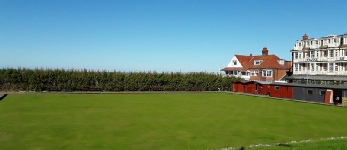 As from Monday, 17 May 2021 the Tuesday and Thursday roll-ups will revert to normal with the Pavilion being open for teas etc provided social distancing is applied. However, on Thursdays the Ladies' League matches at home will take precedence therefore in this case the Thursday roll-up will take place on Friday afternoon.